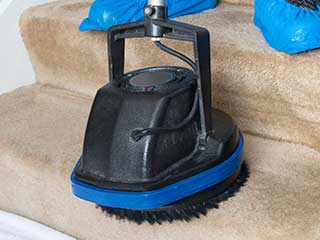 Proper and regular carpet maintenance has many benefits. It contributes to better indoor air quality and less damage to your health. Dirty carpets can cause allergies or deteriorate the health of those already having allergies to bacteria, dust, fungi or mites. These people make up to one million visits to hospitals every year due to allergic attacks. It is certainly not implied that carpets are dangerous for one's health. We just point out the importance of carpet cleaning on a regular basis. Dust trapped among fibers along with dirt transferred from outside make indoor environments stuffy and allow the multiplication of mites, which inevitably go in our lungs. In order to avoid such issues, carpet and rug cleaning becomes a necessity.
People have the habit to clean them only when they look bad or very dirty. Though, dust and dirt hide between fibers long before you actually realize how filthy the carpet is. Having a good quality doormat prevents outside dirt/soil from entering buildings! It's also important to have a good vacuum cleaner to trap more tiny particles but their bags must be replaced often. Although high traffic areas need treatments more often, don't make the mistake to underestimate the importance of both commercial and residential carpet cleaning even if some areas are not often visited. Dust is all over and trapped in carpets without our knowledge.
Basic Steps for Carpet Maintenance
Regular vacuuming is necessary. It is required at least once or twice a week so that soil particles and dust will be removed. If you have rugs, you should take them outside for beating and ventilation and then vacuum them. Although stains must be removed immediately, if you see any stains follow the right cleaning procedures depending on whether they were stained by oil, crayons or wine. Once a year, it's good to rub gently carpets and rugs with a mixture of white vinegar and water. This is an excellent method for odor removal. It will also enhance the colors of the fibers.
You must always be extra careful when you use water. Carpets must never be over-wet or you will have mildew problems later that will deteriorate your health, too. You must always read the labels of rugs and take into consideration that silk, wool and other Persian rugs might need special treatments. Maintaining the carpets is excellent for your health, good indoor atmosphere and the long-lasting of carpets.